If you have a keyboard that has multimedia keys on it, you have probably noticed that it opens the default music app on your computer which is usually Groove. I wanted it to control Spotify with my keyboard instead but when I went to the default apps, Spotify was not an option and it only allowed you to pick one of a few apps or a Microsoft app.
This will not let you play mp3's on your computer with the Spotify app. It cannot do that….yet… that I know of. It will only allow you to open Spotify with the multimedia buttons on your keyboard and control the pause/play next/last, if you have those keys.
Another thing to know is that you cannot click on an mp3 now to play it. You will have to right click it and open with > choose Groove or VLC or whatever you use. Or simply open the player and choose the folder of your mp3's you want to play.
Solution to control Spotify with your Keyboard
If you have the Microsoft Spotify app, uninstall it. Go to Spotify's website and download their app and install it. You can get it here: https://www.spotify.com/us/download/windows/
Find an .mp3 file on your computer, right click it and choose open with > Choose another app.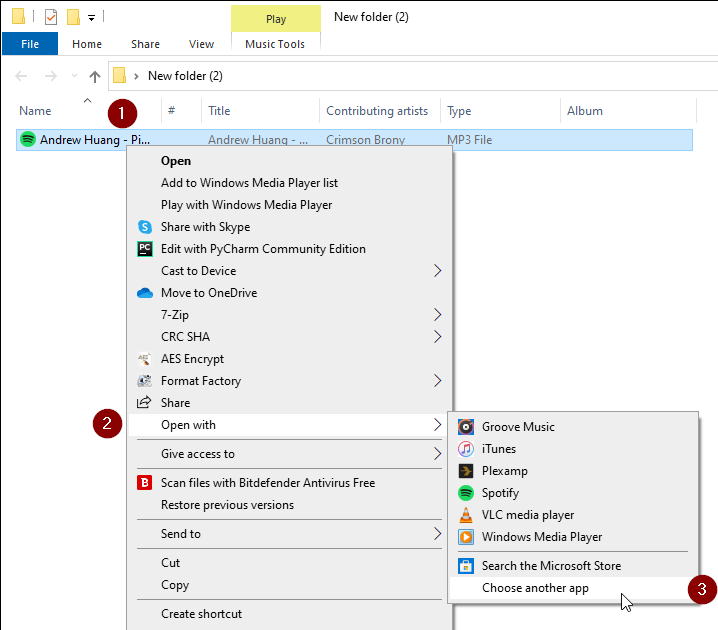 Scroll down and choose more apps
Scroll down again and look for Choose another app on this PC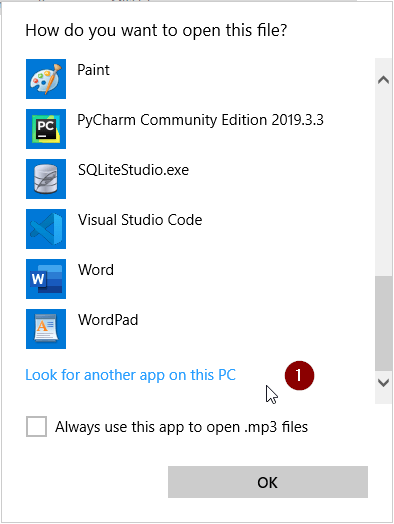 In the window that pops up you will need to navigate to where the spotify.exe is located on your computer. For me it was in the path below (where <username> is your username) This should be the default install location.
C:\Users\<username>\AppData\Roaming\Spotify\Spotify.exe
You can also go to the Spotify icon on your desktop, right click and go to properties. Under the shortcut tab you will see a box called Target. You can copy this and place it in the top of the box that opened earlier.
Once this step is completed your icon next to your mp3 should change to the Spotify icon. Now you will need to go to the default apps and change it to Spotify. You can do this by typing in the search bar, Default apps. Click on the Music player and choose Spotify.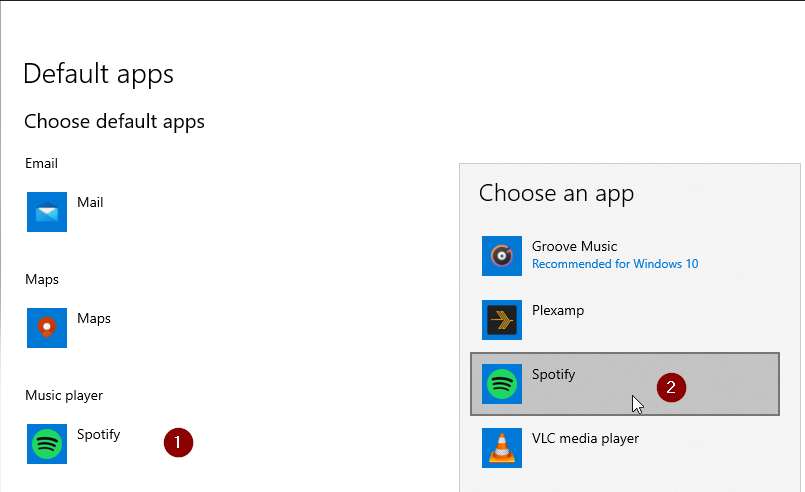 I had an issue with the Play/Pause, next/last keys on my keyboard after I did this. My issue was that I had to remove Google Play Music under my extensions in Chrome. You might have an extension in your browser that could cause this as well as something under the Chrome keyboard shortcuts.
Please check out other articles on https://notposted.com
Tell us how can we improve this post?