Get an account
Go to https://privateiptvaccess.com/ scroll down to the plans and choose your plan and click on the GET THIS PLAN button.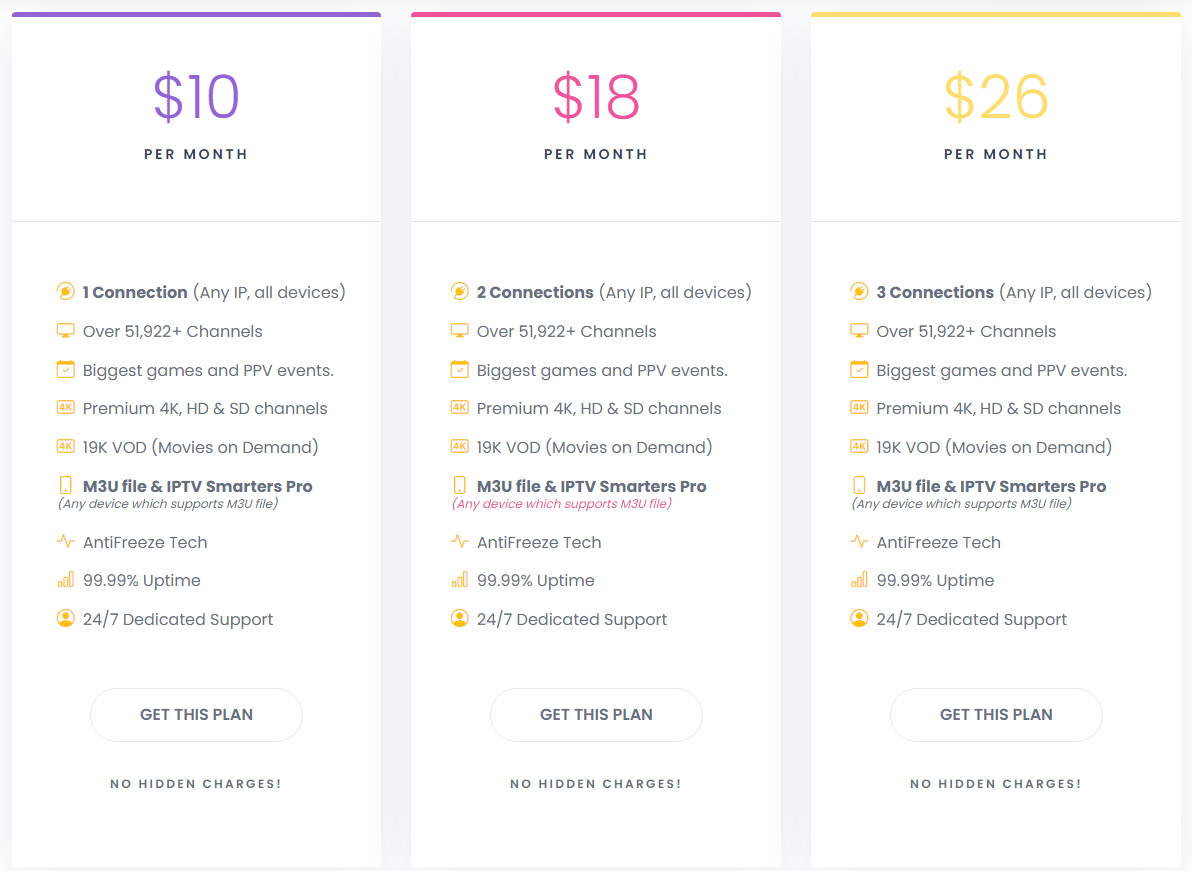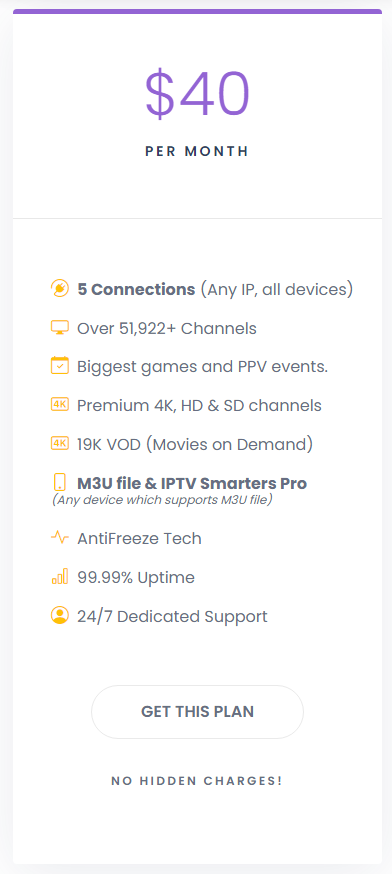 Enter your email address you wish to register with…

Once you enter the email and click register you will get this message on your screen…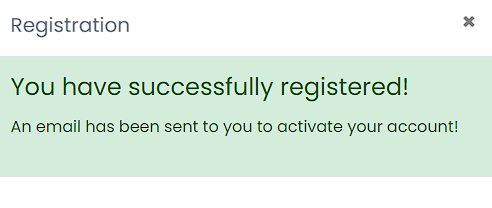 As the message states you will now get an email to activate your account. If you do not see the email in your inbox, then look in your spam folder. Click the continue button in the email.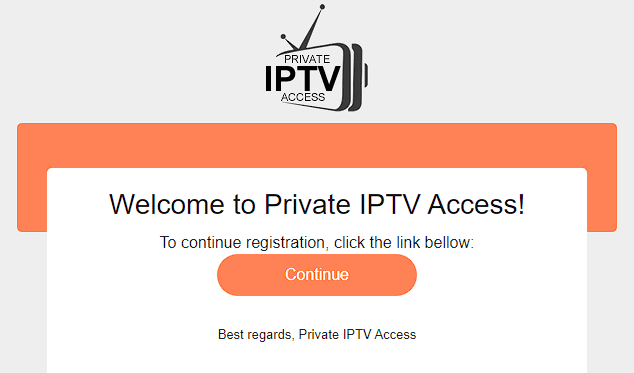 Double check your plan and choose your method of payment.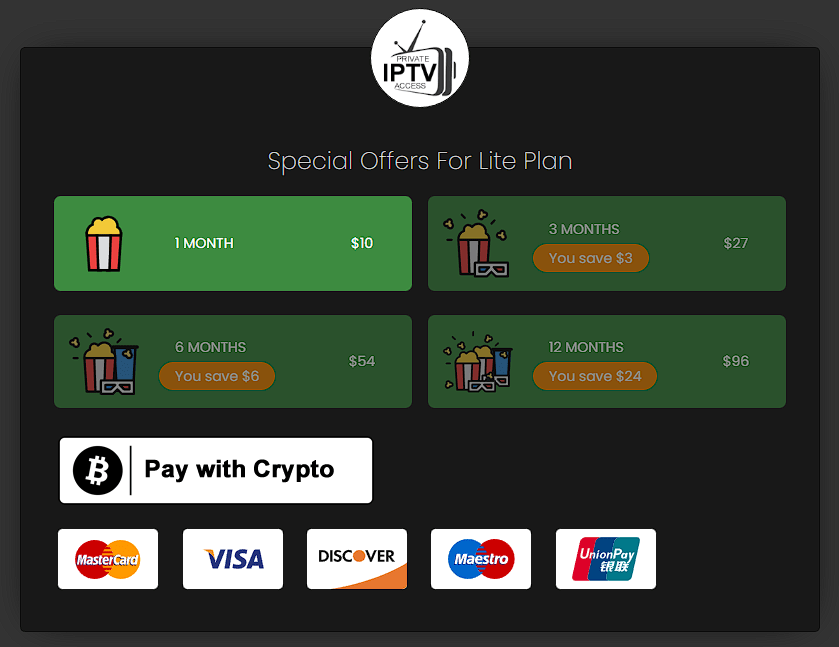 Enter your payment info…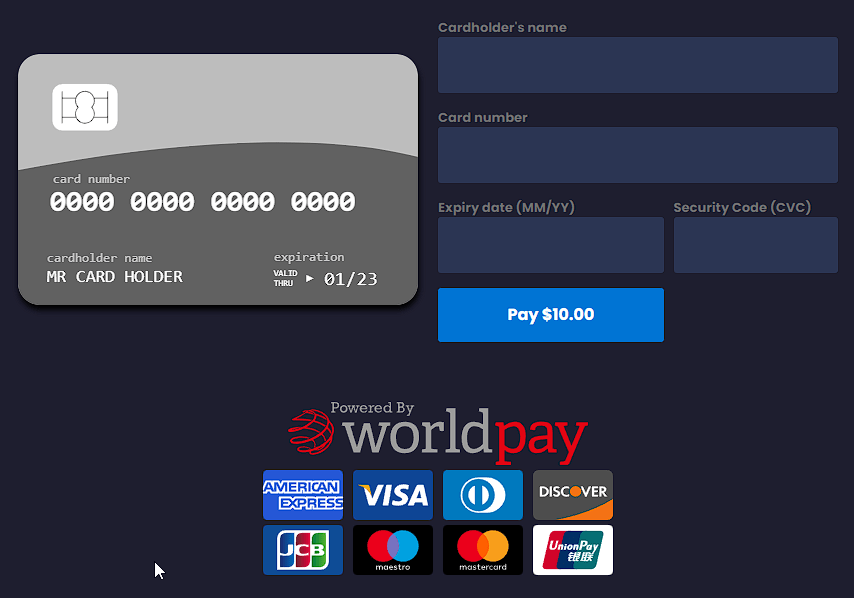 Set up playlist (channels)
Once your account is up and running just log in to your dashboard to begin creating your playlist/channels that you want. You will notice in this screenshot below that I have blurred out the username and password. Do not share these. Under the ACTIONS section click on the download icon in the far-right column.

UPDATE:
VOD has been added but it appears that you cannot have a separate playlist for VOD. I am hoping they add this in the future because I prefer my VOD and my TV to be separate. The m3u that you will create later in this guide will not have images for movies or TV series. You will just need to leave them blank when creating it. Until there are multiple playlists allowed, I recommend that when you are creating your TV guide on m3u4u that you leave the VOD in its pre-created categories instead of adding it into the All Channels like I mentioned below. Or better yet make a category called VOD and add them to it. This will keep them separate as well. The biggest issue will be no images for the VOD. I wrote a guide on how to scrape the TMDB website using their API to get the poster images. However, this is not going to work unless you can have a separate playlist/m3u from Private IPTV Access for VOD. But if in the future it is available, I will link to my guide for it. https://notposted.com/add-poster-images-for-movies-tv-series-in-your-m3u/ You will now see this above the channels section. You simply click on TV and select the channels you want for that and VOD for the channels you want in VOD. They will all be together in the m3u url above it. 

Now you begin to choose your channels.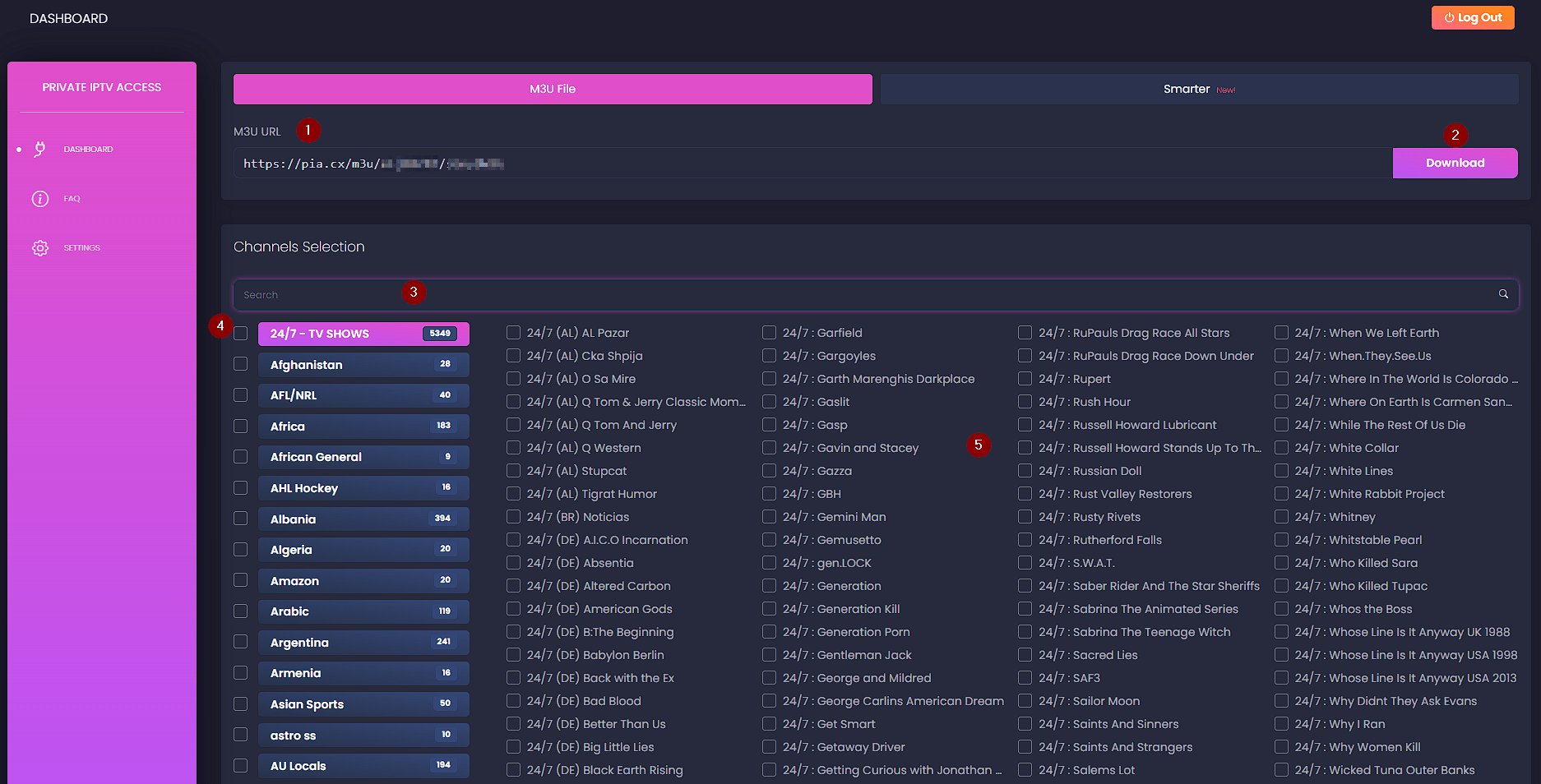 This is the M3U URL for your playlist. You will use this later to set up your tv player.
Download option for the playlist.
Search bar for channels. Type in the channel you would like to add such as HGTV. A list of channels will show up in section 5 of the screenshot. Just check the box for any channels you want added to your playlist.
Groups of channels. You can add an entire group of channels. For example, if you want all NBA channels just scroll down to NBA and select that group and all the channels in that group will be added.
Channels section. When you search or click on a group on the left section 5 will populate that search or group. You can select on any individual channel you see in this section to add it to your playlist.
NOTE: Save the URL, like in section 1 above, to add later to your tv player. Write it down or take a picture.
Create your tv guide
Now that you have created the playlist of channels you will need a tv guide to show you what is coming on those channels. For this we will use a free service called m3u4u. Click here https://m3u4u.com/ and register and confirm your email.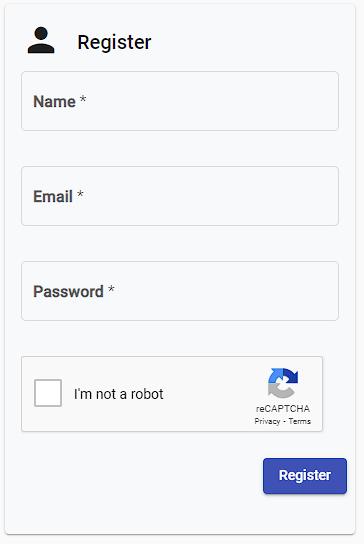 Login and click on create playlist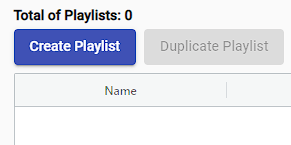 Name the playlist and choose M3U URL under the Select a source…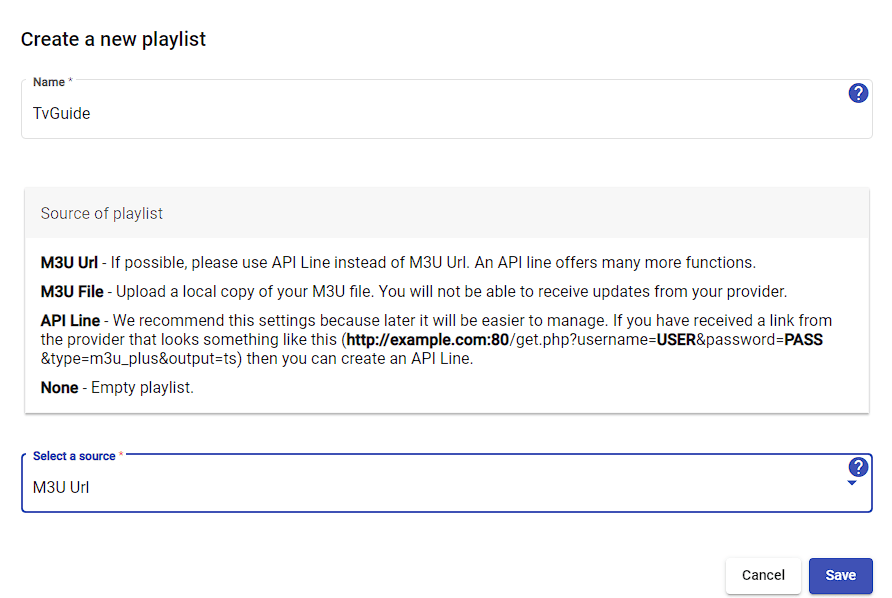 Enter the M3U URL from Private IPTV Access. It will look similar the one below, but of course yours will have your username and password. My example has that hidden in the image. You will also want to auto-sync and choose a time for it to sync.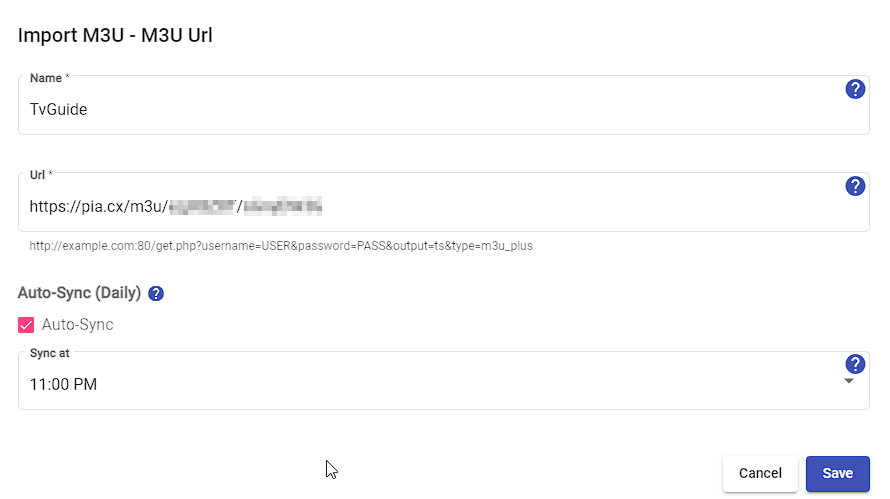 In the menu, choose Playlists, Editor…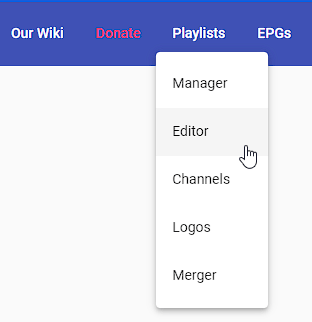 In the Select your Playlist dropdown menu, choose the playlist you created earlier. Then click on More group tools

and choose Create a new group…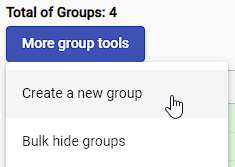 Give it a name. I chose All Channels…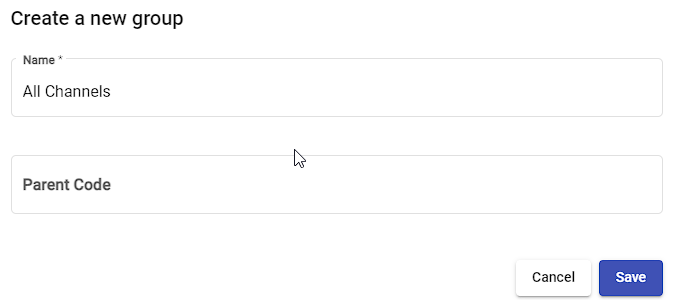 You will be moving all the channels from their groups into the newly created All Channels group one group at a time. You can see in the screen shot the All Channels has 0 channels, but the other groups all have 1-2 channels. Once you are finished, they will all be in the All Channels and none in the original groups. Select a group on the left by clicking it. I chose US Kids and on the right side you can see the 2 channels in it.

Now click on the More channel tools in the right table and choose Bulk move channels…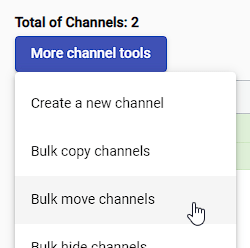 In the Select the Group Destination drop down, choose your group you created and then click on select all and move.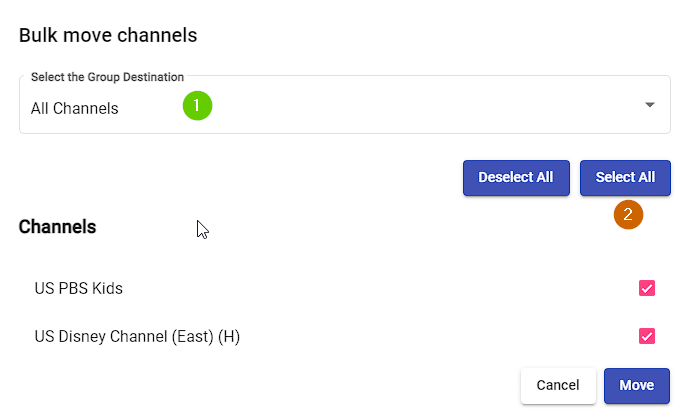 You will now see that the 2 channels in the US Kids was moved to the All Channels group.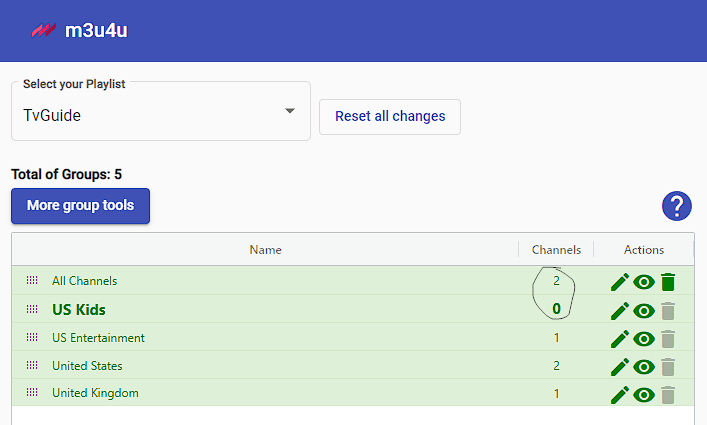 Repeat this process for all groups, until you have all channels in the All Channels group.
Logos for channels
In the menu click on the Playlists and then Logos…

In Select your Playlist choose your playlist. In Select your group choose your All Channels group. You will notice there are no or at least only a few of the channels that have logos. Click on the Set m3u4u's logo button to assign the m3u4u's logos.

In my case it found all but one. That is ok because you can find the logo you want online and copy the URL and place it in the Logo URL field.

EPG (electronic program guide)
In the menu click on EPGs and then Manager…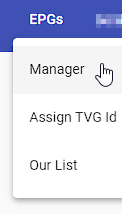 Click on the pencil to edit the EPG…

Choose m3u4u and yes for dummy and suffix…

In the menu click on EPGs again and choose Assign TVG Id…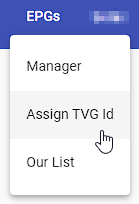 Choose your playlist, All Channels group, country and then click on Auto Assign TVG Id…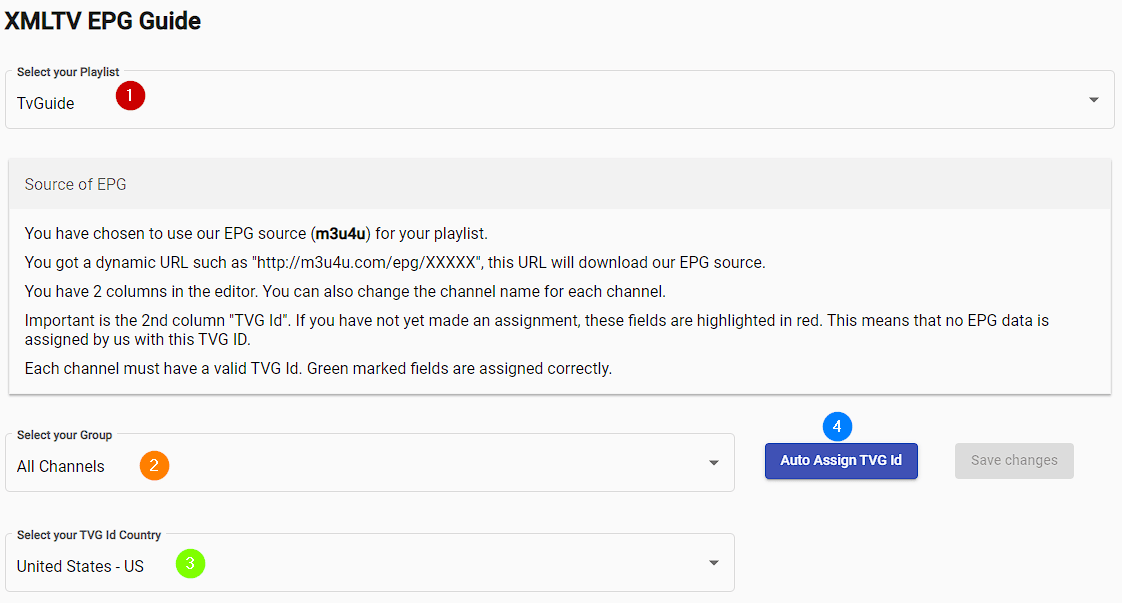 Those in green look to have found the proper guide for the channel. Those in red may not be correct.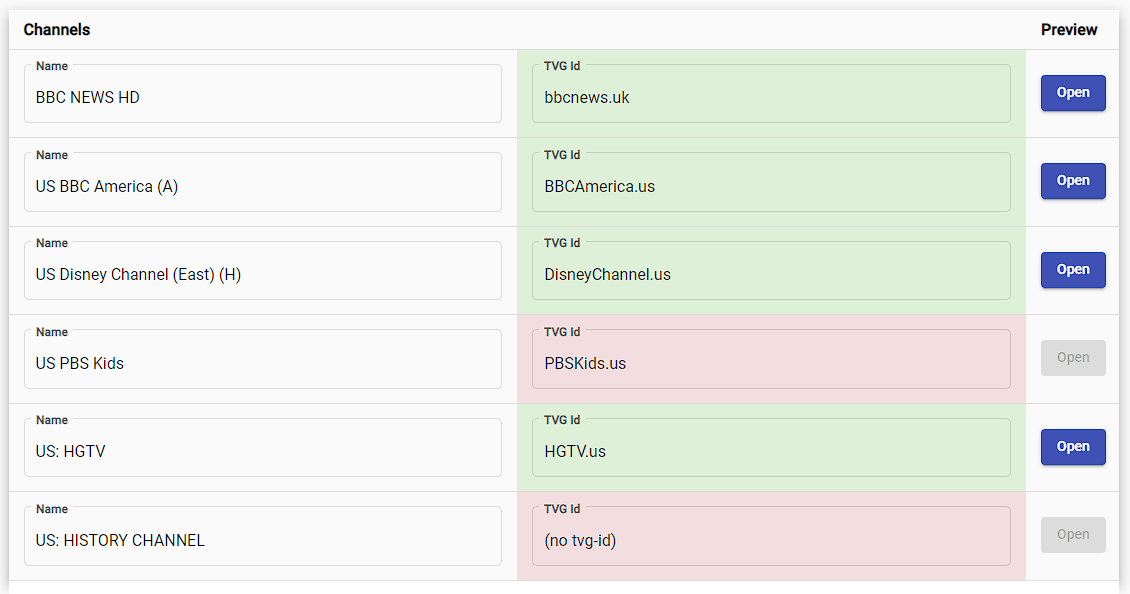 You can manually type in the red ones to see if you can find the correct one. As you start typing you will see some choices in the drop down show up. If you see the correct one you can click on it and add it and the red will turn green. There is some trial and error on the ones it does not auto find. Try a few different ways of typing it. For example, the channel A&E will not show up if you type A&E in the TVG Id. You will have to type aande and it will find it. Don't forget to click on save changes.


The final step in the EPG is to get the URL for the EPG. Go to EPGs > Manager then click on the download arrow on the right and click on the copy the link button or download or write it down or take a photo.
NOTE: Save this URL like below to use later. Write it down or take a picture.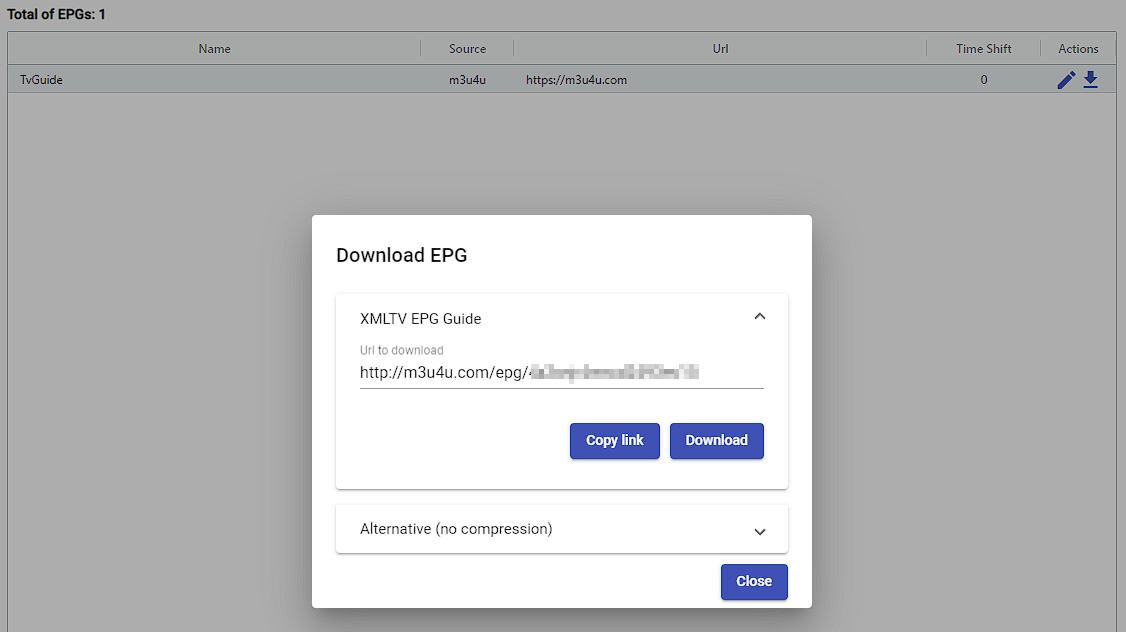 Tv Player Set up
There are many player applications for watching the tv channels from PrivateIPTVAccess. The one I like the best is TiViMate. It looks great and is simple to use. You will need the 2 URLs that you made earlier. One is from PrivateIPTVAccess and the other is from m3u4u. So have those open, saved or written down somewhere, as the next steps will be done on your TV device.
If you have a firestick you will need to follow the instructions at this link to get the app installed. https://www.firesticktricks.com/tivimate-iptv-player.html If you have an android set box then you should be able to just search and install Tivi mate. The link I just posted will also include a more in-depth explanation of what I am about to share so feel free to just use it.
Open the Tivi mate app
Select Add playlist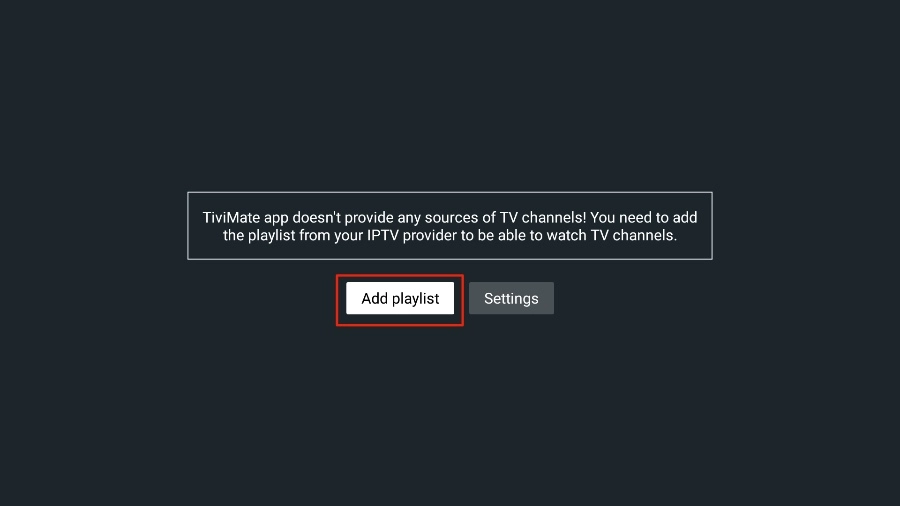 Now you will enter the PrivateIPTVaccess M3U URL. If you did not write it down or take a picture earlier, just log in to https://privateiptvaccess.com/ and in your dashboard look for the download link under actions. This will open the M3U URL right at the top of that page. Add this in Tivi mate.
Once that is added you will be able to add the m3u4u URL for your guide. If you did not write it down or take a picture earlier, you will need to go to http://m3u4u.com, click on the EPGs > managers and then click on the download arrow. Enter this URL into the EPG URL section of Tivi mate.
Conclusion
There are several steps to get this up and running, but unless you plan to make changes often, then it is a onetime process. Just adding some channels takes less time. Don't forget there is a more detailed guide to adding the URLs in your Tivi mate player at https://www.firesticktricks.com/tivimate-iptv-player.html, but it really is as simple as just adding the 2 URLs created in the process above. Hopefully this guide will make the process a little smoother for you and if you have any questions or comments feel free to share.
Find more posts on https://notposted.com
Tell us how can we improve this post?