Most recently I have been using a 60% keyboard that a friend made. I thought that I would love the small size. Mostly I did but…and yes there is always a but…I missed some of the other keys, plus I wanted something with multimedia keys and maybe even some macro keys for gaming. But I did not want a full size keyboard. Yes I wanted my cake and eat it too. So began my journey that led to the Redragon K587 TKL gaming keyboard.
Enter the Redragon
My search led me to the Redragon K587 Magic-Wand keyboard. I was first drawn to it because of the multimedia keys and the macro keys. The design was really nice looking as well. It comes with blue switches, which I really hate, but they are swappable as long as you are using Outemu switches. I ordered some red Outemu switches from YMDK. Great price and I can highly recommend these switches. I had previously bought some red gaterons from a seller on AliExpress and 15% of them, the pins bent. I only had one of the 88 switches I tried from YMDK that the pin bent, and that may have been me. But I digress.
The Redragon K587 TKL features
87 Key TKL
Outemu Blue mechanical switches(Hot-swappable with other Outemu switches)
Dedicated media keys for Play/Pause, Previous and Next songs and a volume wheel
9 Macro keys, 5 that can set up multi-level commands with delays
Magnetic detachable arm wrest
Detachable USB cable
Comes with black, red and brown Outemu switches to try out
RGB lights with multiple patterns. Brightness, speed, direction and color adjustable
RGB lights on the sides of the keyboard
Photos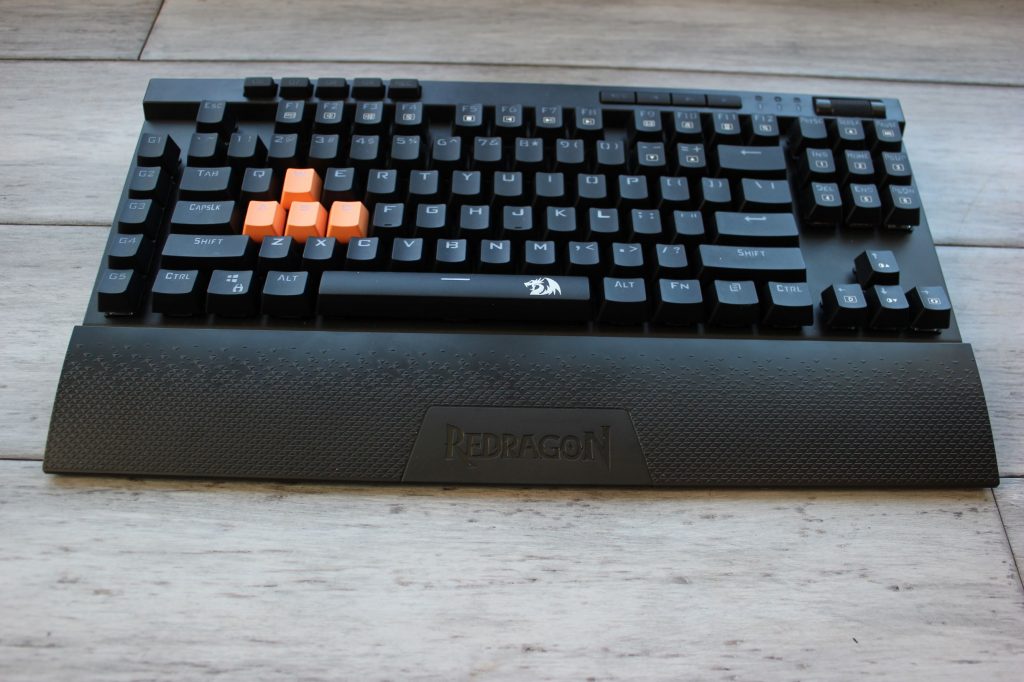 Verdict for the Redragon K587 TKL
I am super happy with the Redragon K587 mechanical keyboard. It fit all my requirements. Not out of the box but after a few modifications I am thrilled. The multimedia keys work great. I like to listen to spotify while I am working and it allows me to easily skip to the next song or change the volume; never having to change screens.
I have set up some macros on one of the games I play and it works great. It has 3 profiles in the software, I only wish it had more. These profiles work for both the RGB lighting as well as the macros. (Just don't accidentally hit the FN + PrtSc key combo or you will reset the profiles) I love the font on the keycaps that came with it and they do feel better than most ABS keycaps I have used, but I wanted some SA keycaps. They can be seen in the photo above. I left the original keycaps for the macro keys because I sometimes hit the G5 macro when reaching for the CTRL key. This helps prevent that.
Modifications
As I mentioned earlier I am not a fan of blue switches. I swapped mine out for reds and when combined with these taller SA keycaps it produces a nice sound that I enjoy when typing.
The hand rest is made of plastic. I would have preferred a rubber one, but I have no issues with it and prefer it over the foam rest I had before. This gives more support. It attaches to the keyboard with 2 strong magnets. It never moves out of place.
I emailed Redragon support to find out what the material on the top of the board was. They replied that it is made of regular plastic frosted material. I was surprised by this response because it honestly looks and feels like metal. A thick metal at that. It is very hard and I swear it feels like metal when I touch it and sounds like metal when I tap it. When I removed the keycaps and replaced the switches the top never bent or gave way at all. So if it is plastic, I am thoroughly fooled.
Where to get it
I purchased my keyboard Redragon shop here:
https://redragonshop.com/collections/redragon-mechanical-keyboard/products/magic-wand-k587
It was on Amazon as well but looks like they may have sold out.
Thanks for reading and you can find more reviews and articles at
Tell us how can we improve this post?