Health E2 Journal is a Windows software for logging of blood pressure, glucose and weight that you can email to yourself or a health provider. (The download will be below) Some features are listed here:
Edit single or multiple fields in a row
Delete a row of data
Clear all entries in the database
Averages for each item
smtp settings for email
email a spreadsheet with the data
Screenshots and info
The application has 3 tabs. The Add Entry tab is where you can enter blood pressure, glucose and weight readings to the database. You do not have to enter every field. For example, if you only want to use it to track blood pressure, then you can enter those only. Also, you might only enter glucose one time and weight the next time.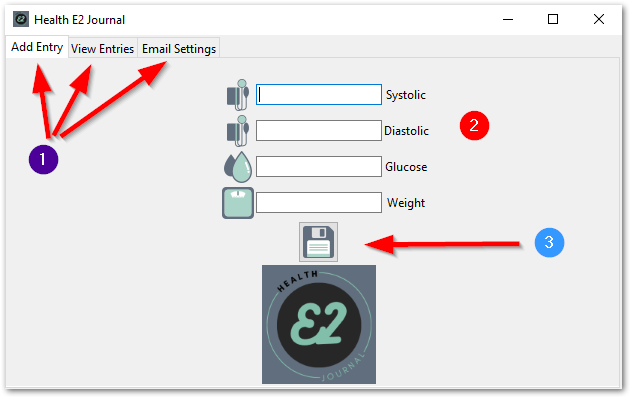 The View Entries tab allows you to see the entries you have made as well as the averages over time.
Refresh/retreive data
Select a row to edit one or all fields in that row
Select a row to delete that row
Clears all health data from the database
Show averages for each column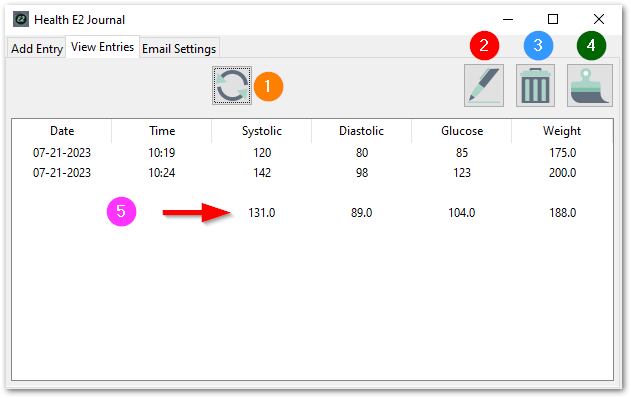 The Email Settings tab is where you will enter the settings for SMTP. There are multiple ways to do this but I will be sharing later how to set this up using Gmail. Once configured you can send an email by entering the email address and clicking on the email icon button.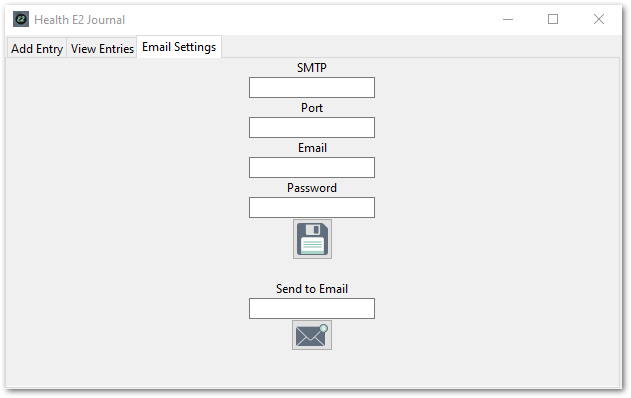 SMTP configuration
Follow the steps below to set up your SMTP settings for Gmail. Save this password somewhere because you cannot retrieve it again later. If that happens you will need to delete the app password and start over.
Create & use app passwords
Important: To create an app password, you need 2-Step Verification on your Google Account.
If you use 2-Step-Verification and get a "password incorrect" error when you sign in, you can try to use an app password.
Go to your Google Account.
Select Security.
Under "Signing in to Google," select 2-Step Verification.
At the bottom of the page, select App passwords.
Enter a name that helps you remember where you'll use the app password.
Select Generate.
To enter the app password, follow the instructions on your screen. The app password is the 16-character code that generates on your device.
Select Done.
If you've set up 2-Step Verification but can't find the option to add an app password, it might be because:
Tip: Usually, you'll need to enter an app password once per app or device.
Download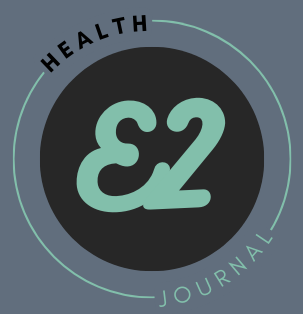 Health E2 Journal
Final Thoughts
I hope this is helpful to someone needing to track this information. It could all be done with a spreadsheet or even pencil and paper, but I wanted to make something that was just easy to use. Let me know if you would like to see anything added to this software or simply your thoughts on it.
Find more on https://notposted.com
Tell us how can we improve this post?